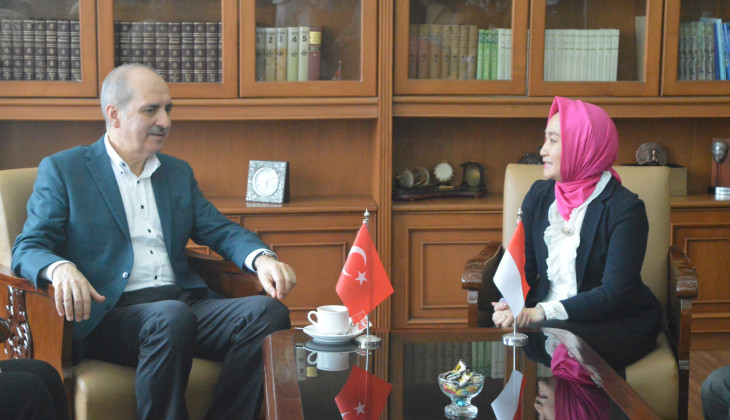 Deputy Prime Minister of the Republic of Turkey, H.E. Mr. Numan Kurtulmus, visited Universitas Gadjah Mada, Saturday (5/3). The visit was made on the sidelines of series of events to attend the 5th Extraordinary OIC Summit on Palestine & Al-Quds Al-Sharif in Jakarta, March 6-7, 2016. Accompanied by Turkish Ambassador to Indonesia, H.E. Mr. Zekeriya Akçam, in this visit Mr. Kurtulmus was welcomed by Rector, Prof. Ir. Dwikorita Karnawati, M.Sc., Ph.D., Vice-Rector for Cooperation and Alumni, Dr. Paripurna, SH, M. Hum., LL.M. as well as the Secretary of the Directorate of Partnerships, Alumni and International Affairs, Dr. Danang Sri Hadmoko, S.Si., M.Sc.

Having historical ties and similarities as a democracy with a muslim majority population, Indonesia and Turkey are quite close. The visit of the Turkish deputy prime minister this time is expected to strengthen bilateral ties and enhance cooperation, especially in the field of education. At the end of last year, the President of Turkey, Recep Tayyip Erdogan, made a visit to Indonesia, which suggests that Indonesia become an important partner for Turkey.

"Indonesia and Turkey have close historical ties. Therefore, we have a good relationship with Indonesia. We also look forward to having cooperation between UGM and educational institutions in Turkey," said Mr. Kurtulmus.

UGM has established good relationships with five universities in Turkey, one of them is Selcuk University through the signing of a cooperation agreement in early 2014. Not only that, UGM also received a grant from the European Union through cooperation with Erasmus+ Inter-institutional Agreement with Turkey's Anadolu University mobility program for educators and students. Nowadays, the opportunity is open to get scholarships for educators to teach at Anadolu with the fund from Erasmus+.

On this occasion, the Turkish Deputy Prime Minister offered more intensive and various forms of cooperation that can be performed between educational institutions in Turkey with UGM, for example by organizing student exchanges as well as scholarships for undergraduate and post-graduate study. However, he admitted that one of the obstacles faced by foreign students in Turkey is limited mastery of the language. Therefore, he hoped students who will continue their studies in Turkey are the one who have a good ability to speak Turkish.

"We will organize the Turkish language training here to help students who want to learn Turkish. As part of this cooperation, we will provide language laboratory facilities by bringing teachers and teaching materials from Turkey," he explained.

This offer was welcomed by the UGM Rector. She supported the plan of cooperation in the future. "We are very honored to receive this visit with a special mission which is very interesting to strengthen the ties between the two countries, including cooperation in the field of language," she said.