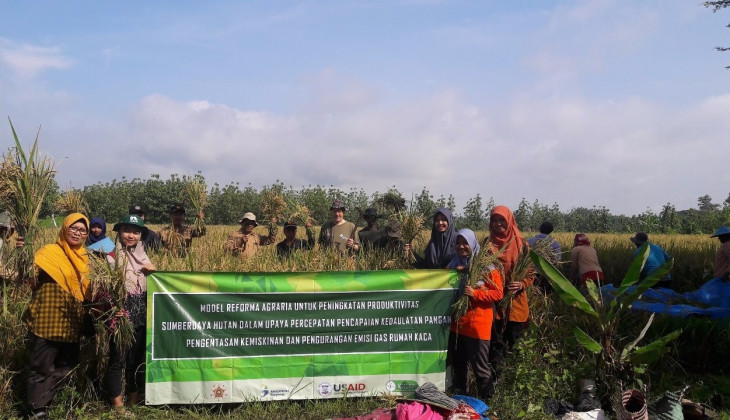 UGM harvested Gogo rice for the first time at the Ngandong-Getas forests in Blora regency, Central Java on 8 March 2018.
The rice is inbrida padi Gogo (Inpago) or rice variety that is grown in dry fields.
Dean of Faculty of Forestry UGM, Dr. Budiadi, said the rice planting in the forest was part of the agrarian reform model to increase forest resources that can accelerate the goals in national food sovereignty, poverty alleviation, and reduction of greenhouse emissions, supported by Indonesian Climate Change Trust Fund. In its implementation, Faculty of Forestry collaborates with Faculty of Agriculture, supported by Perum Perhutani.
Government has trusted UGM to manage the Ngandong-Getas forests that measures 10,902 ha. UGM will do forest management training and development. Apart from its function for education, research, practicum, and community service, Budi said the forest area could also be utilised by the local people for growing agricultural plants.
Budi said this forest would be run under the concept of Forest of Village which will engage the society, village, and rural institutions.
"With this concept, it is expected that forest sustainability can be achieved and the welfare of the surrounding people can materialise," he said.
Currently, UGM focuses on guiding 8 of total 15 surrounding villages to enhance the rural institutional capacity in forest management.