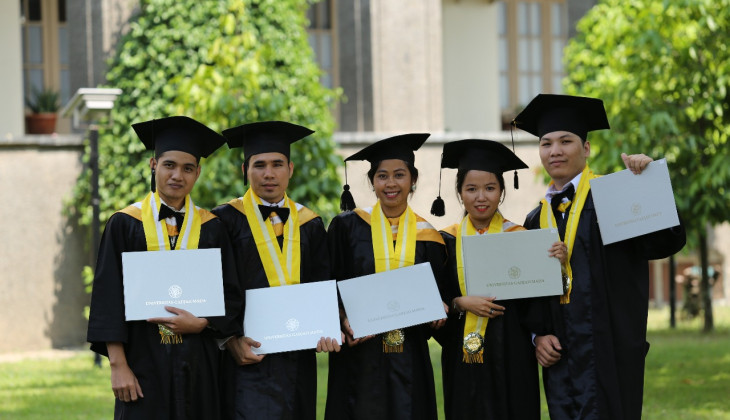 As many as 13 international students from ASEAN countries have completed master's degrees in the Faculty of Engineering Universitas Gadjah Mada.
The students received scholarships from AUN SEED-NET and Developing Countries Partnership Program to study masters at UGM.
"UGM is a well-known university and it offers master program in natural disaster, my study interest. By studying here, I do not only expect to learn engineering, but also culture, social structure, and many else," said Rachna, student from Cambodia.
Rachna admitted she struggled during the first year because of the differences in education and teaching method. Even so, collaboration among fellow students and between students and lecturers were able to create a positive learning environment. The courses offered, she opined, are essential and interesting. Moreover, lecturers delivered complex courses very well and understandable.
"I am very satisfied with what I learned from here. I can bring home many experience and knowledge," she said.
Similarly, Myat, student from Myanmar, also confessed his experience studying at UGM was very pleasant and interesting. In addition to gaining valuable experience through various learning process, the experience also offered them the opportunity to meet students from different countries and background, as well as to build friendship and collaboration in the future.
"The Department of Civil Engineering is a very nice place to study for international students like me. I am also grateful of my good friends here," said Myat.
UGM Faculty of Engineering's Dean, Prof. Nizam, asserted the presence of international students become an integrated part of higher education internationalization as a necessity. With wide-ranging cross country relations, human mobility will expand and advance, along with information technology, telecommunications, and transportation. They all sustain the university to globalize.
"The presence of international students also brings benefits for our students by introducing them to cross-country, cross cultural relationships, expanding their horizon, and reinforcing pride in their own country and university. Graduate students who came from their respective country's top universities show that UGM has globalized and become one of destinations in ASEAN," he said.
The alumni, especially those who participated in AUN SEEDNET program, are plenty in various ASEAN countries. Some of them become lecturers in top universities, officials in bureaucracy, and work in big companies. The wide network built through education will be a strong foundation for cross-country relations and cooperation.
"We aspire to make UGM as the main cooperation hub of ASEAN higher education in Indonesia," Nizam concluded.