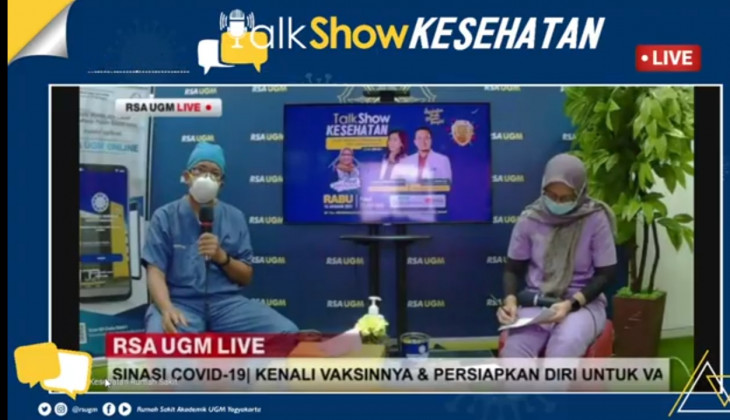 Sinovac, known as the Covid-19 CoronaVac vaccine produced by China, has officially earned an Emergency Use of Authorization (EUA) permit from the BPOM and a halal certification from MUI. The state has begun the first phase of the vaccination program, started by the first dose injection of the Sinovac vaccine to President Joko Widodo on Wednesday (13/1) at the Presidential Palace Complex in Jakarta.
Accordingly, Universitas Gadjah Mada (UGM) Immunology Expert, dr. Deshinta Putri Mulya, M.Sc., Sp.PD, KAI (K), urged the community not to doubt the Sinovac vaccine that the government will provide for free because they have also issued safety confirmation. In addition, there had also been careful clinical research for vaccines with great care and took various aspects into account.
"So, people should have no doubts regarding the vaccinations in which the government will provide," he said in a health talk show regarding the Covid-19 Vaccine organized by RSA UGM online on Wednesday (13/1).
The Head of the Allergy-Immunology Division of the Department of Internal Medicine, Faculty of Medicine, Public Health, and Nursing (FKKMK) UGM also revealed that the Covid-19 vaccination program's success requires good cooperation from all parties, including the government, vaccine service facilities, and the community. This support is critical to achieving herd immunity or population immunity so that the Covid-19 pandemic forthwith ends.
"The public is expected to obey and understand information from competent sources as an effort to enhance the vaccination understanding," she explained.
She further explained that competent doctors, nurses, or midwives also undergo the implementation of the Covid-19 vaccination. Before vaccine administration, there would be a screening of health status related to comorbidities and Covid-19 infection status. In its implementation, the related parties also carefully implement health protocols.
On the other hand, dr. Siswanto, Sp.P., as a UGM RSA Lung Specialist, revealed that the Covid-19 cases were severe and critical. There has been an increased number of people infected with the virus from every once in a while. On the contrary, hospital treatment capacity is limited. Hence, vaccination is one solution to prevent Covid-19 transmission.
"Even though the vaccine is released, we must not be incautious just relying on vaccines. Still, we must implement prevention steps such as wearing masks, washing hands, maintaining distance, and avoiding crowds," Deshinta said.

Author: Ika
Translator: Natasa A