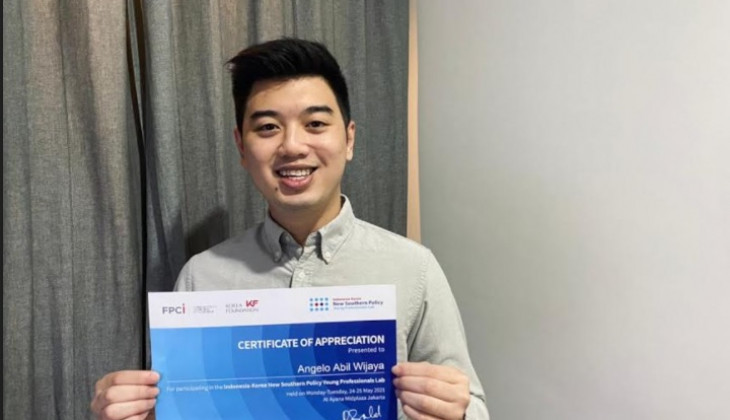 UGM International Relations alumnus, Angelo Abil Wijaya, was among the ten selected participants of a two-day hybrid program Indonesia-South Korea New Southern Policy Young Professionals Lab held on May 24-25. The program was organized by the Foreign Policy Community of Indonesia (FPCI) and the Korea Foundation (KF) as a platform for young professionals to enrich their understanding of the New Southern Policy (NSP) and engage with Indonesia's and Korea's policymakers and practitioners. Several distinguished speakers attended the program in a hybrid manner, including the Indonesian Ambassador to South Korea, the South Korean Ambassador to Indonesia, and the South Korean Ambassador to ASEAN.
The New Southern Policy is a South Korean foreign policy initiative issued during the administration of President Moon Jae-in in 2017 to improve South Korean relations and cooperation with Southeast Asian countries and India. The NSP Young Professionals Lab resulted in the Joint Policy Recommendations, which comprised strategies and solutions formulated by the ten participants for better Indonesia-Korea relations. The recommendations were submitted to the Indonesian government through the Ministry of Foreign Affairs on June 10 and the South Korean government through the Presidential Committee on New Southern Policy on June 15.
"I highlighted the importance of Indonesia's role in being the driver in the NSP. Indonesia needs to ensure that the NSP can answer national needs and interests. Indonesia-South Korea relations through the NSP can serve as an alternative to cooperation in middle power diplomacy, especially when the dynamics of relations between the world's great powers are unpredictable," he explained.
Author: Ika