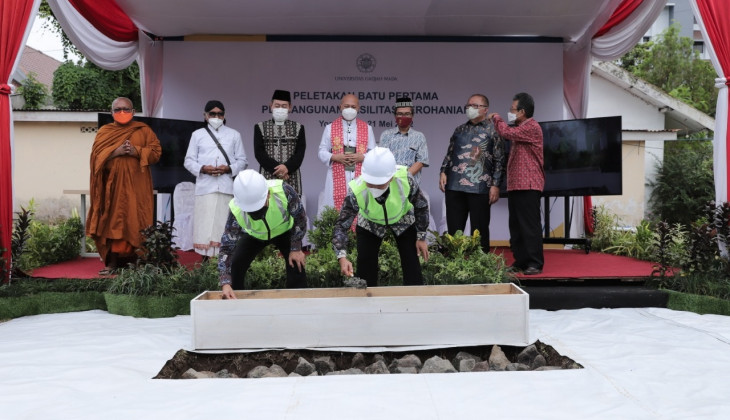 Universitas Gadjah Mada (UGM) will kick off the construction of spiritual facilities to accommodate all students, lecturers, and staff members of Christians, Catholics, Hindus, Buddhists, and Confucians in one central area.
The Spiritual Area is expected to take around 6-8 months to complete and will be connected to Islamic religious facilities at the Mardliyah Islamic Center and UGM Mosque.
"This area will serve as a symbol of tolerance and religious harmony for our students and accommodate positive activities," said UGM Rector Prof. Panut Mulyono at the laying of the area's cornerstone Saturday (21/5).
The Rector said that it had become one of UGM's priorities to develop such an area. UGM as Pancasila University is an open educational institution that has communities from various ethnic, religious, and even national backgrounds.
"Good practices carried out in this area will be remembered by our students when they graduate and form their mindset as leaders moving forward," he said.
Chair of the UGM Board of Trustees, Prof. Pratikno, welcomes the establishment of the Spiritual Area that embodies the country's motto Bhinneka Tunggal Ika (Unity in Diversity). Diversity in Indonesia needs to be maintained as a form of education for future generations.
"Education is not only done in the classroom but also requires exemplary practices. This Spiritual Area is an example of Bhinneka Tunggal Ika. If we work together for this, we will not only save Indonesia but also humanity," said Pratikno.
Author: Gloria
Photo: Firsto