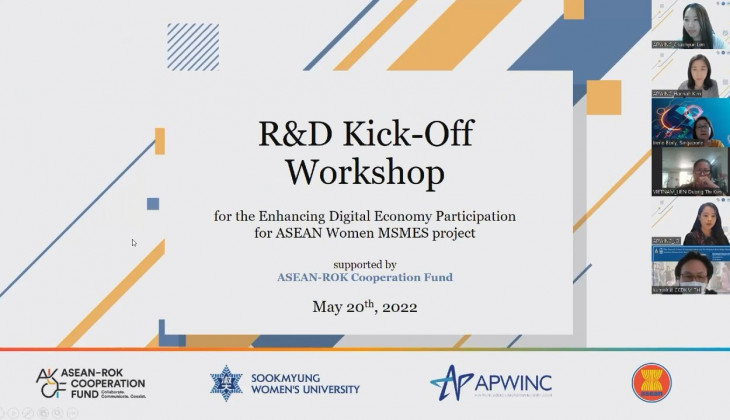 The Asia Pacific Women's Information Network Center (APWINC) held a kick-off workshop for its newly-launched project Enhancing Digital Economy Participation for ASEAN Women Micro-, Small-, and Medium-sized Enterprises (MSMEs), Friday (20/5). Among the R&D team members attending the workshop was UGM Vocational College lecturer Fani Pramuditya, who represented Indonesia in this project.
"This is a follow-up to UGM's collaboration with Sookmyung Women's University on online ICT classes that have been held previously. The collaboration continues to other fields and a wider scope that involves other ASEAN countries," said Pramuditya.
In 2021, APWINC was appointed to run the 5-year project with the support of the Ministry of Foreign Affairs of the Republic of Korea (ROK) through the ASEAN-ROK Cooperation Fund (AKCF).
The project aims to bolster ASEAN women's digital business skills and cooperation between ASEAN and Korea, benefiting 14 local institutions, 200 local trainers, and 4,002 women MSMEs in ASEAN.
The R&D team will develop training courses to revitalize e-business in ASEAN based on the current status and needs of the digital economy and e-business fields of 10 ASEAN countries. They will also conduct joint research to find solutions that can increase the participation of ASEAN women in the digital economy. The e-Business Training Toolkit will be developed by the end of this year.
The R&D team consists of 10 consultants from 10 ASEAN countries, namely Brunei Darussalam, Cambodia, Indonesia, Lao PDR, Malaysia, Myanmar, the Philippines, Singapore, Thailand, Vietnam, and two consultants from Korea.
Jaehwan Kwon, team leader and representative of AKPMT, hopes to foster a sense of community building between ASEAN and Korea. He fully supports the success of this ongoing project.
"This project reflects the commitment made by ASEAN and the Republic of Korea to achieve women's empowerment, especially in the MSME sector, by helping them take advantage of the digital economy and e-commerce," he said.
Author: Gloria