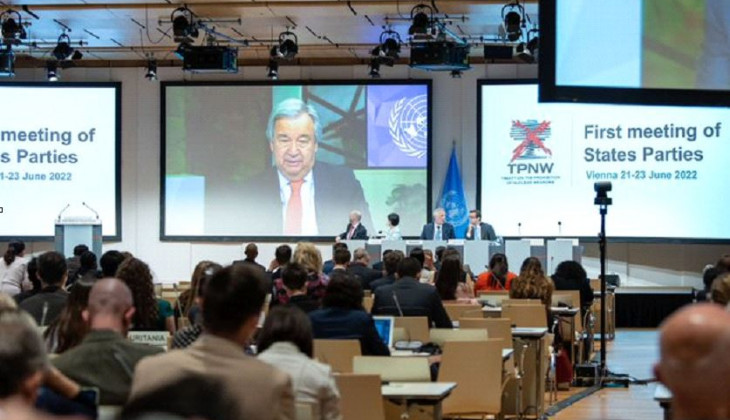 International Relations lecturer Muhadi Sugiono was among the representatives of the International Campaign to Abolish Nuclear Weapons (ICAN) at the first meeting of the States Parties to the UN Treaty on the Prohibition of Nuclear Weapons (TPNW) in Vienna on 21-23 June.
According to Muhadi, this meeting has significance because it took place during the Russo-Ukrainian war in Europe, the growing rivalry between the United States and China in the Asia Pacific, and tensions in the Middle East and the Korean Peninsula.
"All involve countries that have or are indicated to have nuclear weapons," said Muhadi on Monday (27/6).
At this inaugural meeting, all of the participants expressed their firm commitment to take concrete actions to implement obligations under the Treaty, breaking the pessimism that the TPNW would not sustain due to the absence of support from nuclear superpowers.
"The meeting resulted in a declaration affirming the commitment of the states parties to fight for a world free from nuclear weapons, a world in which all countries are registered as parties to the TPNW, and all nuclear weapons are destroyed," he said.
There will also be measures to universalize the Treaty and provide assistance to victims and remediation of environments affected by nuclear weapon use and testing. According to Muhadi, the TPNW is not the final destination. The results of this first meeting are merely the start of a long journey.
"The more countries support the TPNW, the stronger the legitimacy and status of the Treaty as a legal framework for nuclear disarmament," he explained.
He added that Indonesia was present at the meeting, although it had yet to ratify the Treaty. Along with Austria and Costa Rica, Indonesia will compile a paper on the universalization of the TPNW. In addition, the Indonesian delegation was also active in providing views on every issue discussed, affirming the country's commitment to nuclear disarmament and the TPNW.
"We hope that the ratification will be completed soon, and Indonesia will attend the next year's meeting chaired by Mexico as a state party," he said.
Author: Gusti Grehenson