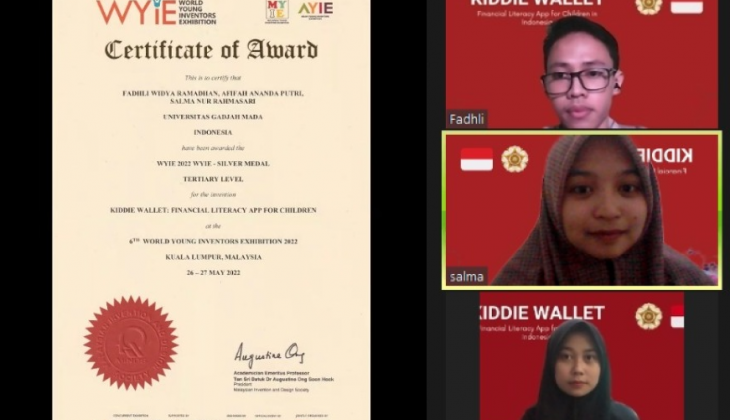 Fadhli Widya Ramadhan, Salma Nur Rahmasari (Management & Public Policy), and Afifah Ananda Putri (Communication Science) won a silver medal for their financial literacy mobile app proposal Kiddie Wallet at the annual World Young Inventors Exhibition (WYIE) in Malaysia.
"We enter the WYIE to validate our Kiddie Wallet. It turned out that the jury appreciated this idea and highlighted the importance of financial literacy from an early age," said Fadhli on Friday (1/7).
Kiddie Wallet is a digital wallet simulation for children aged 8 to 17 years to learn about and effectively use financial skills through interactive games and videos, improving the financial literacy of young Indonesians.
Citing OECD PISA data (2018), Fadhli said that students from Indonesia were the most financially illiterate of the 20 countries involved in the research. It's even more worrying considering the current generation faces a real threat from consumptive behavior and the trap of illegal online payday loans.
"This is our first time participating at the international level. We are grateful for the silver medal. Hopefully, it will inspire not only us but also other UGM fellows," he said.
Fadhli said he and his team would also try other competitions. The team believes that Kiddie Wallet should not stop merely as an idea. It deserves to embark on the next journey into incubation, funding, and so on.
"We hope to develop this idea. As the jury emphasized the urgency of financial literacy today, especially in the era of panic buying and illegal online loans, we need to know about good money management from an early age. I hope this idea will receive support, be it training, funding, or anything, from the campus or third parties," said Fadhli.
Author: Aji