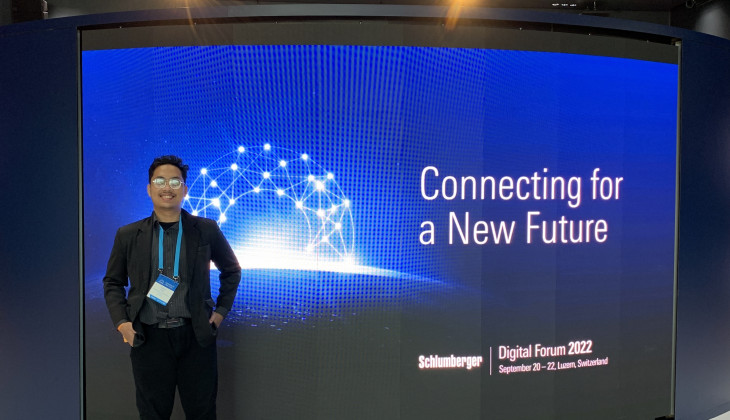 UGM Geological Engineering student Radista Saga has picked up a University Winner for his work "Petrophysical Analysis using Machine Learning/AI and Cloud Based System Collaborating with Delfi and Dataiku Technologies" in a student competition by Schlumberger Digital Forum.
As the student contest winner in the forum, Radista had the opportunity to present his work further in the Subsurface Characterization Technical Talk at the Schlumberger Digital Forum in Luzern, Switzerland, on 18-23 September.
In his statement to reporters on Thursday (29/9), Radista said local contestants must pass the selection stage conducted by the Schlumberger Indonesia team before proceeding to the global selection. Besides him, the jury also gave victory to Shams Kalam from King Fahd University of Petroleum and Minerals, Saudi Arabia.
He hopes his success can encourage other Indonesian students to compete at the world level, especially in technological developments in the oil and gas and mining fields.
"Hopefully, it can boost the growth of other innovations that can be solutions and breakthroughs to overcome energy challenges and problems in the future," he said.
Schlumberger Digital Forum 2022 is an international forum organized by Schlumberger for the global community, including academics and professional practitioners, to explore and present ideas and projects related to the development of digital technology in the energy industry.
The forum featured a series of plenary speakers, leadership panel discussions, and more than 150 technical presentations from Schlumberger and its partners in the energy and technology sectors, such as Microsoft, IBM, Saudi Aramco, Petronas, ConocoPhillips, SKK Migas, and Pertamina.
Author: Gusti Grehenson