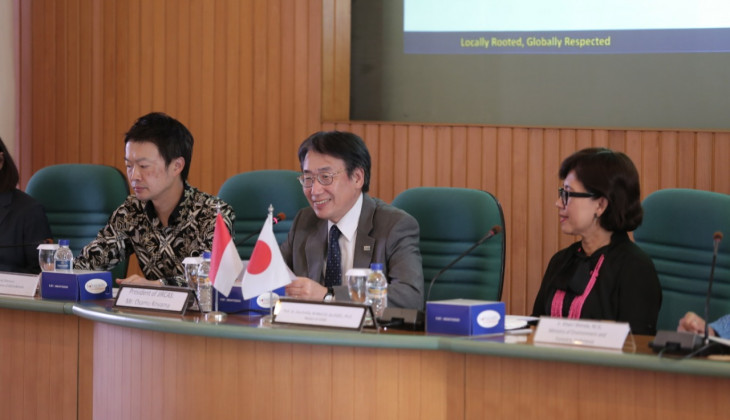 The UGM Faculty of Forestry has agreed on a research collaboration with the Japan International Research Center for Agriculture Science (JIRCAS) to clone genetically superior tropical forest trees.
The meeting between UGM Rector Prof. Ova Emilia and JIRCAS President Koyama Osamu took place at Universitas Gadjah Mada on Monday (3/10).
Dean of the Faculty of Forestry Dr. Sigit Sunarta said this collaboration would improve the quality of research and its implementation in tropical forests in Indonesia and bolster collaborative research between Indonesia and Japan, especially in sustainable forest management and climate change mitigation.
"We want to contribute to sustainable forest management in Indonesia," said Dr. Sigit.
According to UGM principal researcher Prof. Mohammad Na'iem, the five-year research project is worth Rp 30 billion. The focus is on developing genetically superior trees, such as teak, meranti, sengon, and pine, based on genetic selection and vegetative propagation.
The project will implement Intensive Silviculture, which is believed to be able to significantly improve ecosystems and ecological structures and shorten the productivity time of tropical forests, increasing wood productivity by up to 3 times compared to the Selective Cutting and Planting method.
"We want to test the resilience of tropical forests to climate change and evaluate the impact of superior cultivation on ecological, economic, and social aspects," said Prof. Mohammad Na'iem.
The principal researcher of JIRCA, Prof. Naoki Tani, added that the quality and certified plant clones generated from this project were expected to adapt to climate change and improve the forest as a whole.
Director of Forest Utilization Business Control, Ministry of Environment and Forestry, Khairi Wenda, appreciated the efforts of UGM and JIRCAS to improve forest conservation in Indonesia and bring social and economic impact to surrounding communities.
Indonesia manages its forest areas according to three functions, production, conservation, and protection. Production forests in Indonesia currently cover an area of 68.8 million hectares, 30.07 million hectares of which have concessions, and the rest do not.
Furthermore, around 62 percent of the area granted with concession is for selective logging, of which 36 percent is designated for industrial timber plantations. Other plantations on the Java island cover an area of 2.4 million hectares dominated by teak.
The Ministry of Environment and Forestry is currently encouraging the development of secondary tropical forest areas to support the sustainability of Indonesia's forests.
Author: Gusti Grehenson
Photo: Firsto