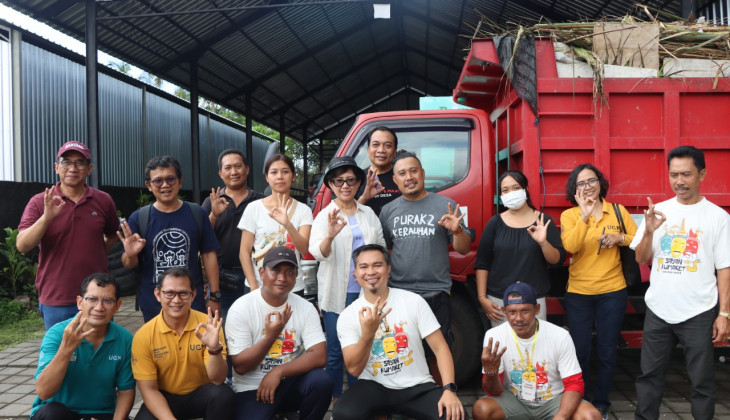 Universitas Gadjah Mada (UGM) will start a waste management-themed student community service and empowerment program this year. At this initial stage, the program will target villages around the UGM campus, such as Sinduadi and Caturtunggal in Sleman Regency and Baciro in Yogyakarta City.
"There are two approaches, reducing the amount of waste that goes to the landfill and later processing it. Students will receive training at the UGM Center for Agrotechnology Innovation before passing it on to the community," said Director of Community Service Dr. Rustamaji on Sunday (9/10).
According to the Rector of UGM, Prof. Ova Emilia, this waste management program is an important step to advance villages. Garbage that is not managed properly will cause dozens of health and environmental problems that ultimately harm villagers.
"The goal is to improve the cleanliness of the village. Good waste management can also be a source of village income," said Prof. Ova.
Once implemented in nearby villages, the waste management-themed program will be expanded to other regions across the country. The process will take account of the characteristics and uniqueness of the local community and involve active participation at the family level.
Regarding this upcoming plan, the Rector, the Vice-Rector for Student Affairs, Community Service, and Alumni, and the Director of Community Service paid a visit to Sayan Village in Gianyar Regency, Bali, a place deemed successful in mobilizing its people to manage waste properly.
As many as 230 families in this village sort their own waste before discarding it at the garbage tip. Household waste is grouped into three categories, organic waste, inorganic waste, and residual waste, each of which is collected to the tip according to a schedule.
"It is great that people are willing to sort their waste, a good waste management practice at the village level," she said.
According to the tip manager, the two factors behind the success of waste management in Sayan Village are the availability of relevant village regulations and the enforcement of customary sanctions for violators. Residents have also been equipped with an understanding since the very beginning that every small action they take in managing waste will have a favorable impact on the village economy.
UGM has a waste processing facility named Rumah Inovasi Daur Ulang, situated at the Center for Agrotechnology Innovation, Sleman, Yogyakarta. This center has long provided many student community service groups with training, resource persons, or waste management tools and materials, such as compost starters, composters, compost, liquid fertilizers, and others.
Not only is this program expected to transfer knowledge from students to the community, but it also serves as a stepping stone towards a better waste management system in the village.
Author: Gloria